Characteristics of gas filter
The content of impurities at the export of the gas well export is complicated
High water content, mixed with sand, and the front-end pipeline and device with corrosive debris
The liquid and solid impurities need to be graded, filtered and removed, and useful components are recovered.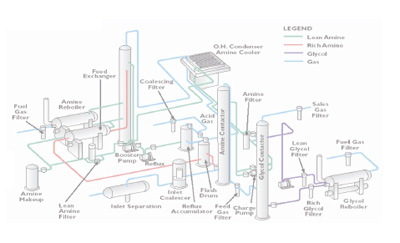 Defects possibly resulted from not good filtering effect
Lower production
Pipeline corrosion
Corrosion of the compressor
Corrosion of other devices
A variety of corrosion and pollution problems arisen from natural gas post-processing
Requirements for gas filtration
Remove small clay, pipeline impurities and fine sediment and other solid particles,
Remove big water drops and sediment often using the method of gravity separation of swirling flow.
The filtration system needs to minimize maintenance and achieve maintenance-free.
It is easy to open and operate the device, which is well sealed.
The choice of materials is very important, and full consideration must be given to the risk of stress corrosion and the process control.

Filter separator is used to remove solid, liquid particulate impurities in gases, and is applicable to a variety of fuel gas and other gases.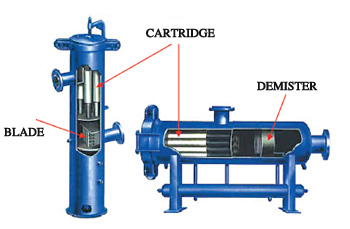 The filter uses a three-stage filter method, that is, the first stage is a collision filter, the second stage is a cartridge filter, and the third stage is a blade demistor. A medium first passes through the collision filter with the inlet duct, and the large particle impurities due to gravity drop to the liquid collection chamber, and then the medium is filtered by the cartridge to remove solid impurities before entering the wire mesh demister; the smoke-like liquid impurities are gradually condensed into big liquid droplets, and at last flow into the liquid collection package (cavity) at the lower part of the device along the wall.